Posted by Dan Birk on 28th Mar 2014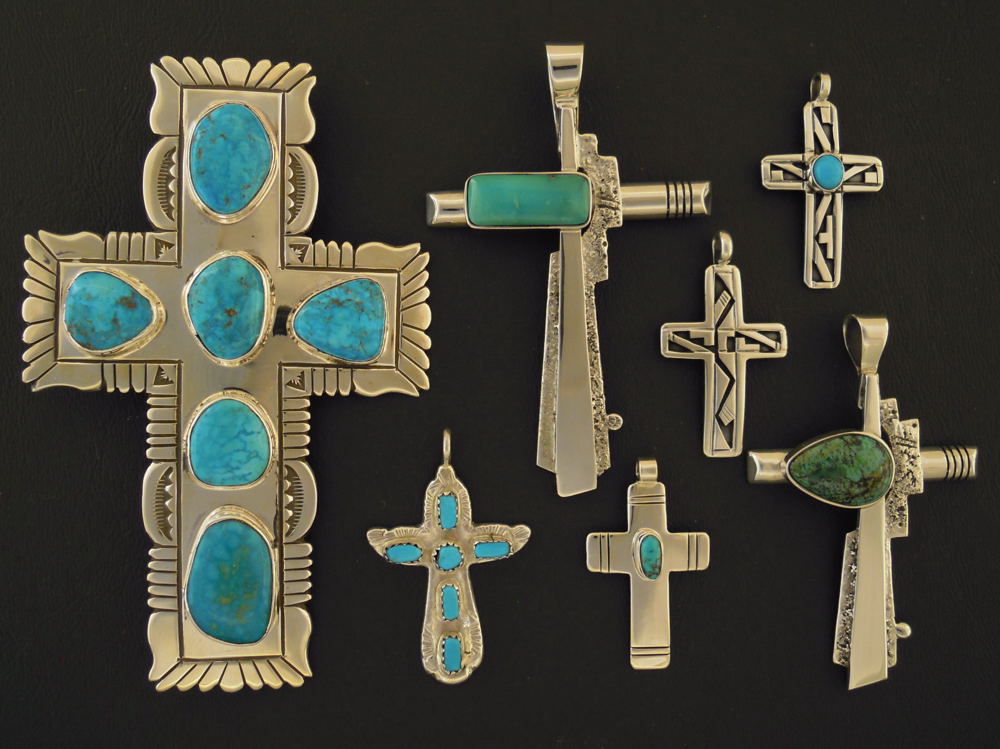 They say a picture is worth a thousand words, but when it comes to authentic Native American jewelry by award-winning silversmiths, neither a picture nor a thousand words can adequately convey the true beauty and intricacy of handmade silver and turquoise jewelry. Red Rock Trading's newest selection of custom handmade cross pendants by renowned Navajo silversmiths Sam Gray, Leroy Begay and Peter Nelson are collectibles that you will enjoy wearing and it will become a keepsake for future generations.
Sam Gray's large silver and turquoise crosses look great on a heavy silver chain, turquoise beads or since it measures 4" tall not including the removable handmade bail, you can frame it in a shadowbox and hang it on the wall! If you're looking for a less ceremonial cross pendant that you can wear everyday, then try one of Sam's smaller crosses made of heavy gauge silver and wear it on a fine sterling silver box chain or leather string.
Leroy Begay's Pueblo Cross Pendants measure from 2" - 3" tall and include a beautiful turquoise stone on one side and a pueblo design with a rising sun on the other side. You'll love the unique design, textures and shapes of Leroy's best-selling cross.
Peter Nelson is known for his hand-carved sterling silver designs inspired by the Navajo rug weavings of his grandmother, mother and sisters. Handmade Native American cross pendants by Peter Nelson come in a variety of sizes in plain sterling silver or with genuine turquoise stones.
Handmade Native American crosses from Red Rock Trading include a Certificate of Authenticity and shipping within the United States is always FREE.